2018-12-17 thru 23 Feast of the 7 Fishes
"The Feast of the Seven Fishes" or La Vigilia 
Monday December 17 thru Sunday December 23
for a week long celebration of a time honored Italian tradition
Dinner service starting at 5:00 pm each day.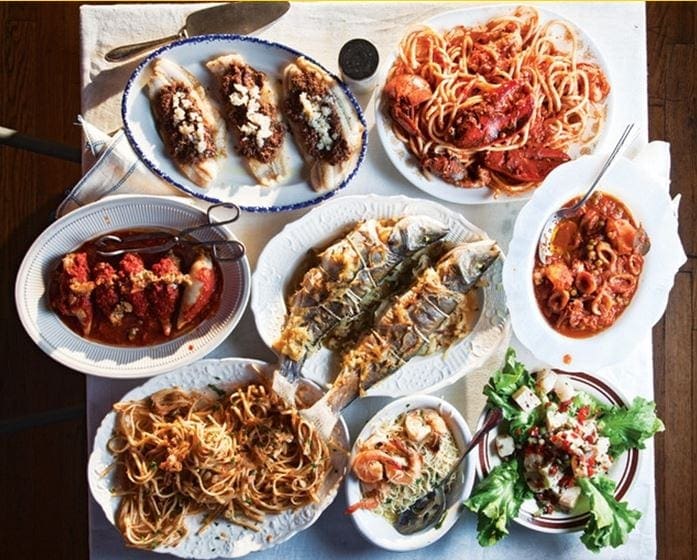 On December 24th Christmas Eve our family, along with many other Italian families, sit down to a meal consisting of mainly seafood dishes.  In Italy and all over the world many Italians fast by not eating meat on Christmas Eve to commemorate the birth of Jesus on Christmas Day.  "The Feast of the Seven Fishes " typically  consists of at least 7 different seafood dishes, we often have up to 10 or 12.
Christmas Eve is one of the most beloved holidays for many Italians, especially in the South were it originated.  In addition to the religious significance, it is about gathering with family and friends, enjoying a terrific meal, and spending quality time together.  
At CuVino we share and introduce a little of this tradition  in our restaurant the entire week leading up to December 24th.  
My brother and our kitchen staff will be preparing some of our family recipes as well as new dishes we have shared in our restaurants over the years.  
All Fresh:
Octopus, Calamari, Baccala, Salmon, Bronzini…..along with other seafood incorporated in a variety of dishes!
So take a break from Shopping and Running around and relax and share an Italian tradition with us!
Be sure to make your reservations.  
*******Please Note we will be closed****** 
December 25th Christmas Day 
 Buon Natale e Avere una Bella Festa !