2019-03-05 Wine Tasting-Mastrojanni in Montalcino
Wine Special Guest Tastings  – Mastrojanni in Montalcino
March 5, 2019
6pm-8pm
WINES WILL BE DISCOUNTED FOR ON AND OFF PREMISE PURCHASE
Reservations are highly suggested if you plan to stay for dinner.  Call 410-854-7484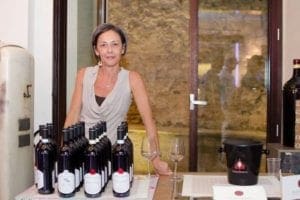 Come Monday and meet Rada Linke , Director for Mastrojanni Winery located in Montalcino, Tuscany.  
Mastrojanni has become one of the most respected producers in Montalcino.  In 1975 Gabriele Mastrojanni purchased the San Pio and Loreto estates and planted his first vines of Sangiovese.  In 1992 Andrea Macchetti, a brialliant enologist who worked in the cellars of Villa Banfi, came on board and with the world famous winemaker Maurizio Castelli they catapulted Mastrojanni to the top producers of the region.  
 
We will be Tasting 3 Wines
 
Mastrojanni San Pio
20% Sangiovese and 80% Cabernet Sauvignon
A medium to full bodied red wine aged 18 months in French oak followed by 6 months in bottle. 
Rosso di Montalcino
100% Sangiovese Grosso
This  baby Brunello is aged 6-7 months in barrel and then 3 months in bottle.  Notes of bright red sour cherry fruit with floral notes make this a great light bodied style wine. 
 
Brunello di Montalcino
100% Sangiovese Grosso
Intense full bodied with dark fruit and spices.    
Critical Acclaim
RP92
Robert Parker's Wine Advocate
Mastrojanni's 2013 Brunello di Montalcino reveals a very precise and focused aromatic profile. This is a signature touch from this outstanding estate that, year in and year out, produces some of the best Brunello you can buy. Wild berries and cherries rise from the bouquet in an elegant flutter. Those tones are followed by spice, leather, rosemary and medicinal herb. The wine is streamlined, polished and smooth in terms of mouthfeel.