2021-04-10 thru 04-15 Antinori Wine Special
ANTINORI WINES SPECIAL
Star of the Tuscan Coast, with Antinori Pedigree,
the Best Value 97 point Super Tuscan in 50 years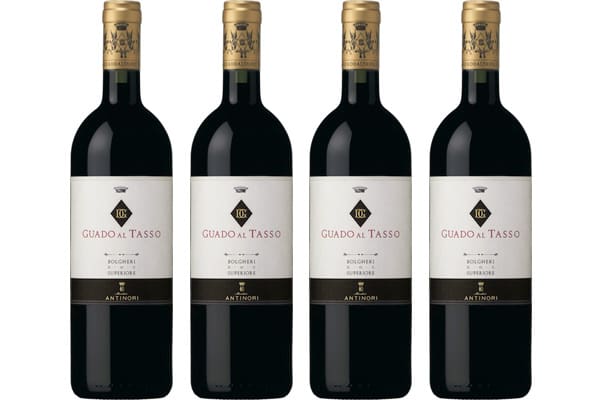 We are pleased to offer a very special opportunity today to Our loyal Cuvino customers The ICONIC 97 point 2017 Guado al Tasso from Antinori at an insanely competitive price of $124.99/ BTL OR $119.99 when you purchase 3 or more.
Few wines capture the essence of Tuscan winemaking, combine it with such elegance, and deliver it at such an incredible value as Antinori's Guado al Tasso.
The Sassicaia neighbor is, as wine critic Antonio Galloni describes: "A wine that exemplifies the exuberance and voluptuousness that makes Bolgheri reds so seductive."  
Since its inception in 1990, this coastal Cabernet Sauvignon, Merlot, and Cabernet Franc cousin of Solaia has been one of the most consistent value finds among Super Tuscan collector wines. The wine's quality reached a new level in the 2007 vintage when the Syrah in the historic blend was replaced by Cabernet Franc, which excels in the region of Bolgheri.
2017 Antinori Tenuta Guado al Tasso, Bolgheri Italy
SAVE 20% $30/btl when buying 3 or more
National Retail Price $149.99
CUVINO SALE Price $124.99
 $119.99 / bottle if you buy 3.
Note: Wines are limited in supply – please place your order by Thursday April 15th.  Wines will be available for pickup beginning Saturday April 17th.
This is a one-time ONLY offer.While supplies last first come first serve.
Place your order NOW by emailing me at contact@tastecuvino.com
Offer Available while supplies last.  *Price does not include any applicable tax
Wine Tasting Notes and Reviews:
"I tasted a wide range of wines at Guado al Tasso just as the 2019 harvest was getting started. As is the case throughout Tuscany, the 2016s are off the charts, the 2017s are rich wines that will drink well early and the 2018s show the more mid-weight style of the year. The overarching theme in recent years has been a move towards greater freshness and vibrancy, and that is very much in evidence across this lineup." — Antonio Galloni
97 points, The Wine Advocate: "From a warm and sunny vintage that produced darkly concentrated fruit, the Tenuta Guado al Tasso 2017 Bolgheri Superiore Guado al Tasso is a teaser and a super pleaser. This is one flashy wine. This carefully calculated blend of 65% Cabernet Sauvignon, 20% Cabernet Franc and 15% Merlot pours from the bottle with a beautifully saturated and rich color. I double-decanted my sample before writing this review, and the wine's aromas showed immediate harmony and intensity. This vintage caps many years of study regarding blending: The Merlot is slightly decreased here, and the Cabernet Franc is slowly taking on a more important supporting role. The Petit Verdot that was used as a peppery accent two years ago has now been removed altogether. The results are pliant, seamless and fluid, and that's the big takeaway here. The wine is bountiful, round, supple and full-bodied. . The Guado al Tasso vineyards are located not too far from the sea, at a low elevation of about 60 meters above sea level. The soils are alluvial with a unique mix of limestone clay and sand, with pockets of rocks and are generally known as the Bolgheri Agglomerate."