$25 Wine List
This list was created to showcase a variety of Italian wines at a great value where price is not a factor.  We hope that you explore our choices and find some pleasant surprises.
Download our wine list before shopping for wines at CuVino's premier wine shop.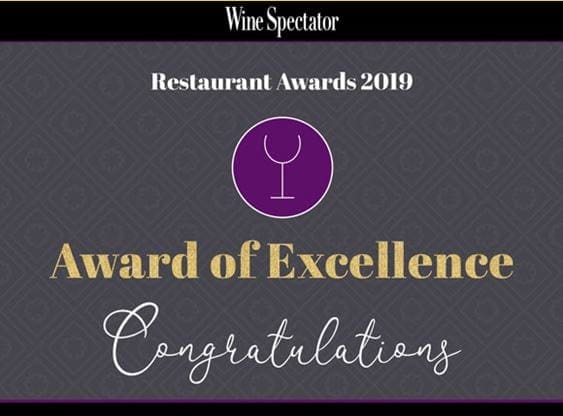 We are excited to
announce receiving
Wine Spectator's
2019 Award of Excellence.
Our wine selection is constantly growing.  We feel there are too many great wines to limit ourselves and that's part of the fun.  Thank you for enjoying them with us.
Rose, Sweet and Sparkling Wines
604   Prosecco Brut DOC, Coralba (Veneto)
616     Rose Sparkling Brut, LcVilla NV (Piemonte)
621     Rose Sparkling Amabile, Tintero NV(Piemonte)
A106  Rose, Dagajolo 2018 (Toscana)
624    Lambrusco Brut, Medici NV(Emilia Romania)
615    Moscato d' Asti, Terredavino La Gatta 2018 (Piemonte)
610    Malvasia di Casorzo NV Semi Sweet Red (Piemonte)
Light Bodied
C123   Pinot Grigio, Villa 2018 (Sicilia)
C110   Pinot Grigio, Alverdi 2018(Veneto)
C114   Gavi di Gavi, Conti Speroni 2018 (Piemonte)
C140   Vernaccia di San Gimignano, Cavaliere 2018(Toscana)
A104  Arnies, Elvio Tintero 2018 (Piemonte)
C120   Orvieto Classico Secco, Rocca delle Macie 2017 (Umbria)
Medium / Full Bodied
C133   Pinot Grigio, Angelini 2018 (Veneto)
C106   Trebbiano, Mascarelli  2018(Abruzzo)
A107   Insolia, Cusumano 2017(Sicilia)
A119   Sauvignon, Fossa Mala, 2017 (Friuli)
C139    Verdicchio, Sartarelli 2018 (Marche)
C101   Chardonnay, ViteColte "Fosche"2017 (Piemonte)
Light Bodied
510   Montepulciano d' Abruzzo, Lc Villa 2016 (Abruzzo)
927   Sangiovese, Alverdi 2018 (Emilia-Romagna)
619   Nero d' Avola, Tola 2017 (Sicilia)
721  Barbera d' Alba, Casata Moticello 2018 (Piemonte)
810   Pinot Noir, Angelini 2017(Veneto)
Medium Bodied
211   Chianti Classico Riserva, Tomaiolo 2014 (Toscana)
505 Montepulciano d' Abruzzo, Mascarelli 2016(Abruzzo)
809 Pinot Noir, Monte de Angeli 2018(Veneto)
812  Cabernet Sauvignon, Alverdi  2017(Veneto)
808 Pinot Noir, Due Torri 2018(Veneto)
Full Bodied
318   Vino Nobile di Montepulciano, Barbanera 2015 (Toscana)
623     NegroAmaro, Menhir "Mandorla" 2018 (Puglia)
505b     Primitivo, Meridia  2017 (Puglia)
324    Super Tuscan, Carpineto, Dogojolo 2017 (Toscana)
111b   Super Tuscan, Barbanera  2017(Toscana)
121     Super Tuscan, Opera 2015 (Toscana)