DEC 16-23 Feast of the 7 Fishes
"The Feast of the Seven Fishes"
or La Vigilia
Join us Friday, December 16 thru  Saturday, December 23rd
Dinner Service for a week long celebration of a time honored Italian tradition.
At CuVino we share and introduce a little of this tradition in our restaurant the entire week leading up to December 24th.
My brother and our kitchen staff will be preparing some of our family recipes as well as new dishes we have shared in our restaurants over the years.
We have adjusted the menu so all items will be available for carry out.
Be sure to make your reservations for for your dinner.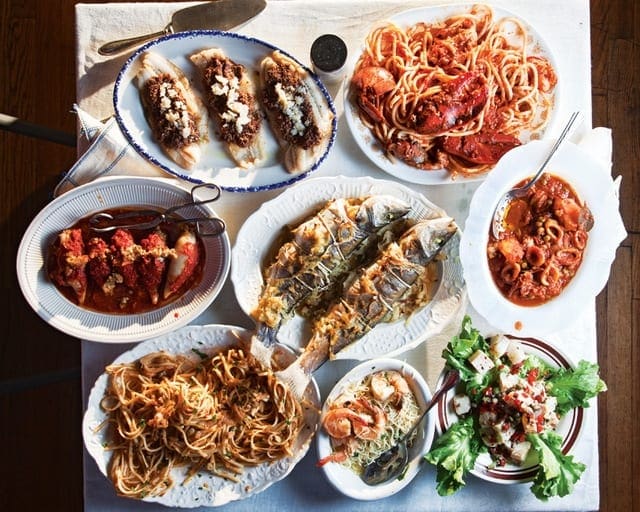 Buon Natale e Avere una Bella Festa
CuVino "Feast of the Fishes" Specials
---
Appetizers
Maryland Crab Soup $10
Insalata di Mare $22 
Tender octopus, calamari, shrimp, clams, scallops, scallions, pepperoncini, marinated mushrooms, celery, cherry tomatoes, and olives tossed with lemon & Extra Virgin Olive Oil
Misto Fritto $22
Lightly fried shrimp, calamari, cod, scallops served with fresh lemon and a caper & red pepper onion chutney
---
Entrées
Baccala (Salted Atlantic Cod) $32
Rosina -Sautéed with roasted red peppers,fresh garlic in extra virgin olive oil served with a side of spaghetti garlic & oil
Aceto
Sautéed with sweet cherry vinegar peppers in extra virgin olive oil served with a side of spaghetti marinara
Acqua Pazza
Poached with sautéed onions and kalamata olives in a lite marinara sauce served with a side of spaghetti
Ravioli Aragosta $29
Homemade ravioli stuffed with lobster in a seafood thyme cream sauce
Granchio della Spiaggia $29
Fresh jumbo lump crab meat, fresh spicy chili peppers, cherry tomatoes, garlic, pancetta, spaghetti, topped with toasted bread crumbs
Salmon Affumicato $28
Fussiloni pasta sautéed with pulled Smoked Salmon in a garlic, capers and lemon sauce
Bronzino $31
Whole bronzini broiled with capers, lemons, Sicilian oregano and scallions topped extra virgin olive oil & white balsamic vinegar
---
Dolci
Panettone Bread Pudding $10
Topped with orange zabaglione sauce