Wines of Italy
Award Winning Wines

We are extremely excited to announce we have received   "The Best of Award of Excellence" the next level of the Wine Spectator Restaurant Award.   Information on the Level of Awards can be viewed at https://www.winespectator.com/articles/about-the-awards.  The "Best of Award of Excellence" category was awarded to only 1,387 restaurants for 2020.  This coming August will mark the completion of our 5th year.  All of us have truly enjoyed getting to know all of you and your families.  We are fortunate and blessed to be part of this special community.  Thank you for the enormous support  shown to us during these past challenging months.   We will endure these difficult times and look forward to continuing to grow  and experience special moments with you all once again.
Sincerely,  Ralph and Angelo
Reserve Wine List
Wines available in the Restaurant or at Retail Prices
Availability Subject to Change
Sparkling Wine List
603 Prosecco Superiore, Carpene Malvolti NV (Veneto)
608 Prosecco, Bortolomiol "Miol" (Veneto)
VV2 Prosecco Brut, La Civetta (Veneto)
606 Prosecco, Rive della Chiesa (Veneto)
605 Prosecco, La Luca (Veneto)
607 Franciacorta Brut, BellaVista 2013 (Lombardia)
RR Franciacorta Rose Brut, BellaVista 2014 (Lombardia)
503b Franciacorta Rose Brut, Ricci Curbastro (Lombardia)
618 Franciacorta Brut, Ricci Curbastro (Lombardia)
617 Chardonnay Brut, Ferrari "Perle" 2011(Alto Adige)
601 Chardonnay Brut, Ferrari NV (Alto Adige)
RR Chardonnay Brut,Giulio Ferrari "Reserva del Fondatore" 2007(Alto Adige)
602 Rose Brut, Ferrari NV (Alto Adige)
VV3 Pinot Nero Spumante Extra Brut, Giacosa 2015 (Piemonte)
611 Falanghina Spumante Extra Dry, Folius NV(Campania)
609 Lambrusco Rosso Secco (dry), Lini (Emiglia-Romagna)
03-2020
Sparkling wine is a wine with significant levels of carbon dioxide in it, making it fizzy. The best known example of a sparkling wine is champagne. Usually sparkling wine is white or rosé, but there are some of red sparkling wines. The sweetness of sparkling wine can range from very dry "brut" styles to sweeter "doux" varieties (from the French words for 'raw' and 'sweet', respectively).
Sweet Wine List
614 Rosso, Cantina Gabriele "Dolcemente" 2017 (Lazio)
WCC Moscato d' Asti, Albino Rocca 2016 (Piemonte)
613 Brachetto d' Acqui, Banfi "Rosa Regale" 2017(Piemonte)
612 Brachetto d' Acqui, Vite Cotte "Il Furetto"2015(Piemonte)
AC1 Vin Santo, Rocca delle Macie 2011(Toscana)
AC4 Vin Santo, Antinori 2013(Toscana)
AC5 Vin Santo, Felsina 2005 (Toscana)
AC6 Passito Sagrantino, Antonelli 2010(Umbria)
03–2020
Sweet Wines, sometimes called pudding wines or dessert wines, are typically served with dessert.  A a dessert wine is considered to be any sweet wine drunk with a meal, as opposed to the white fortified wines (fino and amontillado sherry) drunk before the meal, and the red fortified wines (port and madeira) drunk after it. In the United States, a dessert wine is legally defined as any wine over 14% alcohol by volume. This dates back to a time when the US wine industry only made dessert wines by fortification, but such a classification is outdated now that modern yeast and viticulture can produce dry wines over 15% without fortification.
Rose Wine List
A108 Rose, Quado al Tasso "Scalabrone" 2018 (Toscana)
VV1 Rose , Firriato "Le Sabbie del' Etna" 2018(Sicilia)
03-2020
A rosé (rosato in Italian) is a type of wine that incorporates some of the color from the grape skins, but not enough to qualify it as a red wine. It may be the oldest known type of wine, as it is the most straightforward to make with the skin contact method. The pink color ranges from a pale "onion-skin" orange to a vivid near-purple, depending on the varietals used and winemaking techniques. There are three major ways to produce rosé wine: skin contact, saignée, and blending. Rosé wines can be made still, semi-sparkling or sparkling and with a wide range of sweetness levels.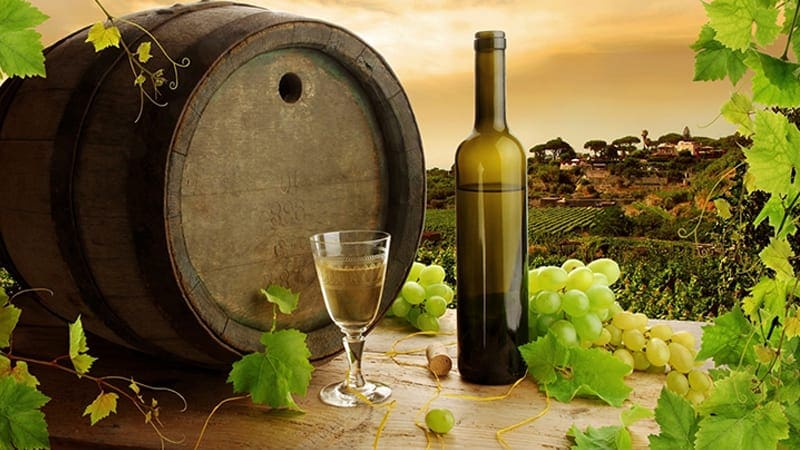 White wine is a the colour of straw-yellow, yellow-green, or yellow-gold. It is produced by the alcoholic fermentation of the non-coloured pulp of grapes, which may have a skin of any colour. White wine is mainly from "white" grapes, which are green or yellow in colour, such as the Chardonnay, Sauvignon, and Riesling. Some white wine is also made from grapes with coloured skin, provided that the obtained wort is not stained. White wine has existed for at least 2500 years.
Among the many types of white wine, dry white wine is the most common. More or less aromatic and tangy, it is derived from the complete fermentation of the wort.  They are often considered more refreshing, and lighter in both style and taste than the majority of their red wine counterparts.
Red wine is a type of wine made from dark-colored (black) grape varieties. The color of the wine can range from intense violet to brick red for mature wines and brown for older red wines. The juice from most purple grapes is greenish-white; the red color comes from anthocyan pigments (also called anthocyanins) present in the skin of the grape; exceptions are the relatively uncommon teinturier varieties, which produce a red colored. Much of the red-wine production process therefore involves extraction of color and flavor components from the grape skin.
Most red wine is aged for some period before bottling. Aging can take place in stainless-steel or concrete tanks, or in small or large oak barrels.
Grande Formato 
(Large Format Bottles)
Vino Bianco Wine List
CGC Chardonnay Brut, Ferrari NV (Alto Adige) 1.5L
03-2020
Vino Rosso Wine List
TST Super Tuscan, Castellani Violeta 2010 (Toscana) 1.5L
TST Super Tuscan, Carpineto "Dogajolo" 2016 (Toscana) 1.5L
TST Super Tuscan, Antinori Guado al Tasso 2014 (Toscana) 1.5L
TST Super Tuscan, Vagliano Palistorti 2011 (Toscana) 1.5L
TST Super Tuscan, Vagliano Palistorti 2012 (Toscana) 1.5L
TST Super Tuscan, Folonari Cabreo "Il Borgo" 2011 Toscana) 3L
TST Vino Nobile di Montepulciano Riserva, Carpineto 2013 (Toscana) 1.5L
TST Vino Nobile di Montepulciano Riserva, Carpineto 2013 (Toscana) 3L
TST Barbaresco, Albino Rocca "Angleo" 2015 1.5L
TST Barbera d' Asti Superiore, Terredavino "Luna el Falo" 2014 (Piemonte) 3L
TST Barolo, Paolo Conterno "Ginetra Riserva" 2010 (Piemonte) 1.5L
03-2020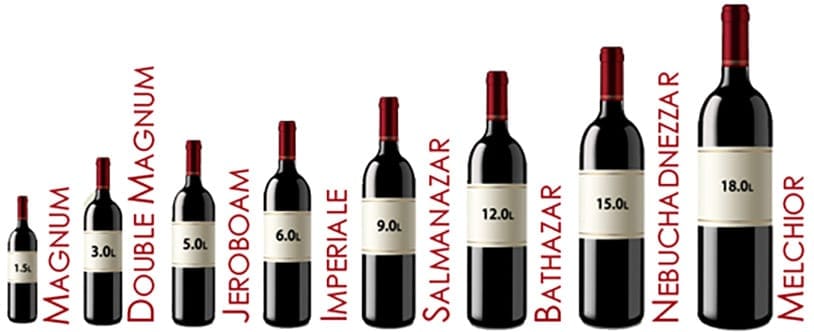 Wine from larger format bottles ages more slowly and develops more complexity and nuances than smaller bottles.  Wine is better when shared and enjoyed with others. Depending on how many friends or how thirsty you are choose a size that fits your party.  Here is a guide to help you.
1.5 Liter "Magnum": 1 standard 750ml bottles
3.0 Liter "Double Magnum": 4 standard 750ml bottles
4.5 Liter "Jeroboam": 6 standard 750ml bottles
6.0 Liter "Imperial": 8 standard 750 ml bottles
9.0 Liter "Salmanazar": 12 standard 750 ml bottles
12.0 Liters "Balthazar": 16 standard 750 ml bottles
15.0 Liters "Nebuchadnezzar: 20 standard 750 ml bottles
18.0 Liters "Melchior": 24 standard 750 ml bottles