FREE WINE TASTING
Tasting 5 wines from Montalcino,
Bolgheri Tuscany, Trentino and Abruzzo
Tuesday, NOVEMBER 21, 2023
6pm-8pm
WINES WILL BE DISCOUNTED FOR OFF and ON PREMISE PURCHASE
Call for reservations: 410-853-7484 – Space is limited and this is a great opportunity to taste some fantastic wines.  All wines will be available for discounted prices.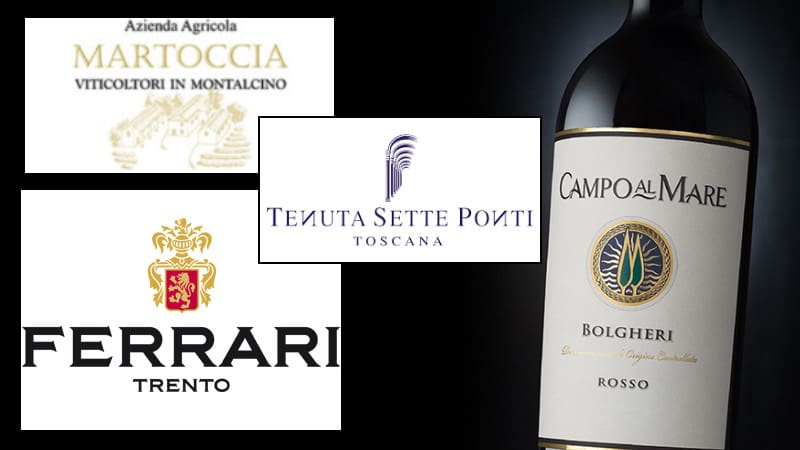 Larry will be hosting a selection of 5 wines from around Italy
White and Sparkling
Pecorino, La Quercia "Santa Pupa"
100% Pecorino Grapes
Lite body , hints of apricot, and tangerine
Ferrari BRUT
100% Chardonnay Grapes
Bright straw yellow, intense bouquet, with a broad fruity note of ripe Golden Delicious apples, white flowers and a delicate scent of yeast, deriving from 20 months' ageing in bottle.
Reds
Rosso di Montalcino,Martoccia Brunelli 
100% Sangiovese Grosso grapes
One of the highest altitude vineyards in Montalcino.  4 Hectare estate.   Fruity black cherry and wild berries unite with vanilla and spice. 
Super Tuscan, Tenuta Sette Ponti "Crognolo"
90% Sangiovese 10% Merlot
Tenuta Sette Ponti lies on historic land in the heart of the Chianti zone at the end of the Via del Monte, known locally as the Via dei Sette Ponti, in a beautiful hidden valley. Named for the seven medieval bridges crossing the Arno River.  Matured for 12 to 18 months in French oak.  Intense ruby red in color with a fruity, spicy bouquet and ripe cherry and berries on the palate.
Super Tuscan, Folonari "Campo al Mare"
60% Merlot, 20% Cabernet Sauvignon, 15% Cabernet Franc, 5% Petit Verdot
A large bouquet of aromas and flavors of black currant and blackberry with fresh herbs, such as sage.